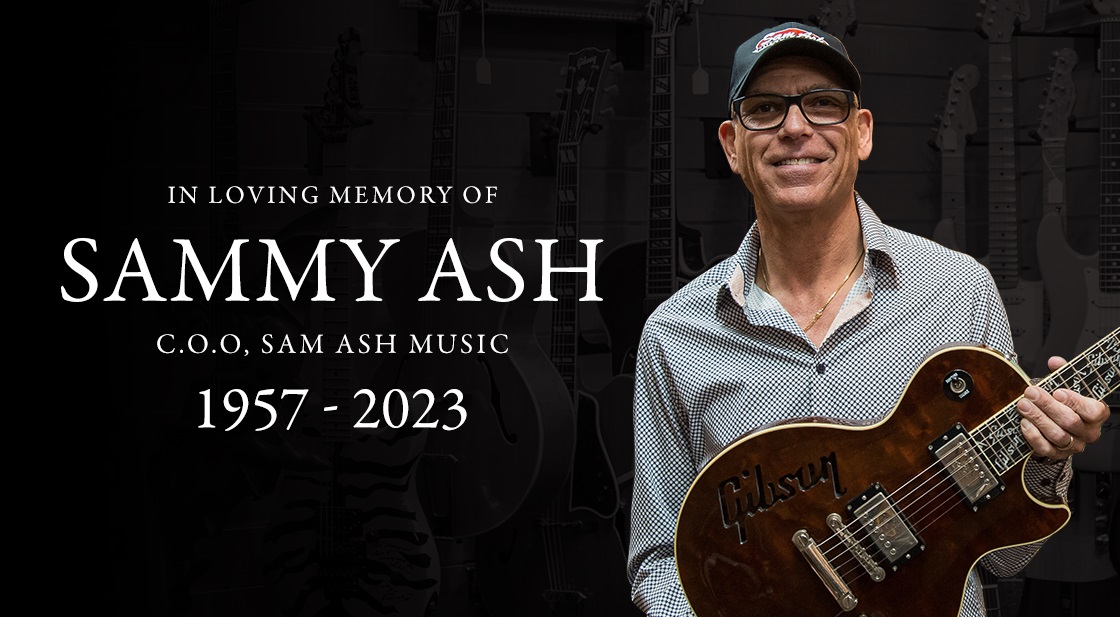 I never got to meet Sammy Ash, but I sure do have lifelong musical ties to the music store chain named for his grandfather. Sammy was the chain's Chief Operating Officer until he passed away at age 65 from skin cancer on 09.16.2023. 
I've developed friendly relationships with many members of the Springfield, NJ store on Route 22. There's George, the general manager, who is also a member of local funk/rock band KQ and the Sound Trip (more about this band later, I hope…). Then there's Reggie in pro audio, Michael, Jeff and Dave in guitars, and Rob in instrument repair. And Joe who calls me when a harder-to-get item has come in. These folks have been vital influences on the evolution of my sound as an artist. And it's Sammy's vision for the Sam Ash chain's modern presence that brought us together. 
This store has not only connected me to instruments, gear and supplies, but also to a beloved bandmate. Lou DiMartino ("Mr. Lou") was working in the store when he observed a flyer I posted on the bulletin board seeking a bassist for the Jungle Gym Jam. He called, and came over to audition. He was great! He also confessed that to cut down the competition he took the flyer off the board. I was flattered that he wanted that much to be in our band. We would share in Lou's talents along with his longtime band Joe D'Urso and Stone Caravan. Our projects co-existed rather well because our band for kids & families played by day and Joe played mostly evenings. =
Tragically, Lou's life came to a sudden end due to an asthma attack after only 3 months with us. But he brought so much kindness and love for music into our lives for the short time we had together. He taught us the phrase LLU, which stands for "Lou Loves You" which he placed at the bottom of all his emails to us. And he connected us to the Light of Day community, in which he was a passionate participant. 
My ties to Sam Ash stores go back before I ever picked up a guitar. In fact, my grandparents surprised me with my first-ever electric guitar as a Bar Mitzvah gift I never expected. Where did they buy it? Sam Ash in NYC! I still have that guitar and just picked it up to play recently. 
As I was nearing high school graduation I participated in a sight-singing competition, in which I was given sheet music for the first time and called upon to interpret the melody with my voice. I won the competition and enough money for a gadget that would transform my music-making: a Tascam 4-track cassette recorder. Where did I go? Sam Ash of Paramus! 
These days I work in Mountainside, NJ, about a 5-minute drive to Sam Ash of Springfield. Most of my musical gear comes from this store. I've also traded in gear to this store as my musical needs have changed over time. 
Here's a fun fact about Sammy: he gave the iconic Ibanez Tube Screamer pedal its name. And I recently purchased one without having known that.