On Sunday, May 21 I'll open for Manny Cabo ("The Voice," "La Voz," Wizards of Winter Tour) at Just Jake's in Montclair, NJ. 
I've performed live in Montclair since the early 90s when I used to come here for open mic nights. By 2005, Amy and I moved here. Over the course of decades performing in this arts-rich town, I've gotten to know some of the movers and shakers. I've also become aware of when my show idea was unconventional enough that I'd have to plan and organize the show myself.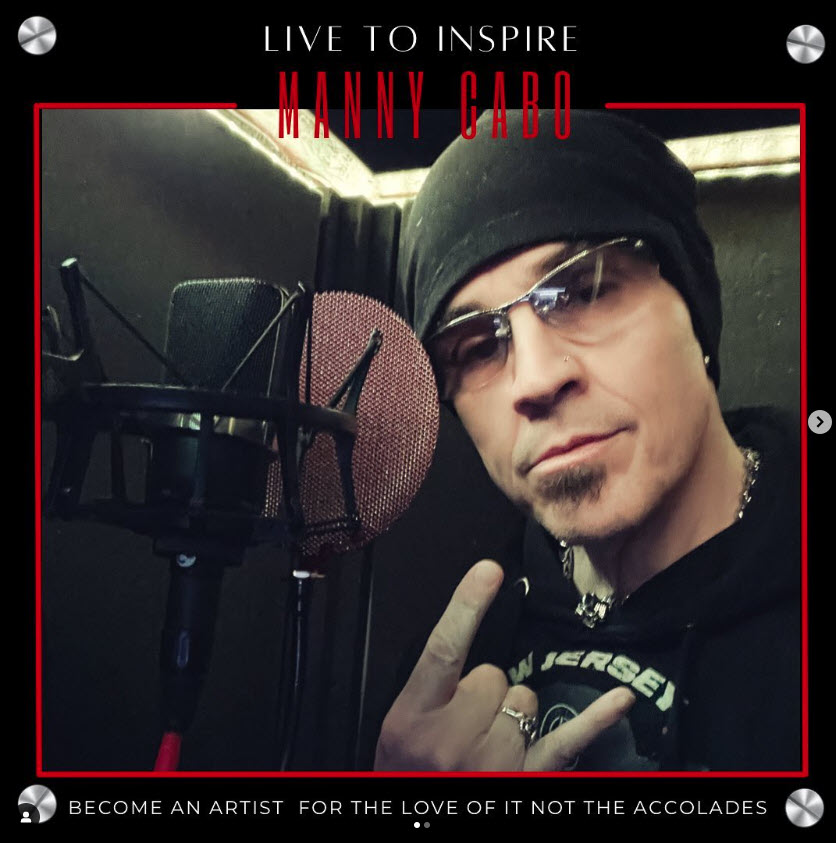 This led me to work with Joann Smalls to create events like a Family New Year's Ball in the Old Mogul Theater (now known as the Vanguard Theater). At the time, Joann was promoting a Manny Cabo show in the same space. So I began to follow this former "The Voice" contestant on social media. I really liked the way he represented himself online - with sharp, professional images and a consistent, inspirational tone verbally. 
One way I support local artists in town is through the use of my "Montclair, NJ Music Scene" playlist on Spotify. So, when Manny was recently promoting a new single, I added it to the top of my playlist and let Manny know about it. He messaged me to say he would like to return to Montclair to play an intimate, acoustic show. So I got to work on how I might best make that happen. 
 Just Jake's struck me as the right sized venue for a well-known performer to give an intimate show in town – but with a bit of imagination for another unconventional show.  Just Jake's is mostly known for its Friday and Saturday night cover bands that get the room up and dancing. Back in 2014, I booked a daytime concert at Just Jake's to mark the release of my debut album for kids and families with my band "Jungle Gym Jam." So I understood the power of the venue to serve different audiences at different times of the day or week. I've also spent several afternoons there with my family watching our friends' kids perform in special School of Rock concerts. There you had young rockers' parents and siblings listening attentively at tables, rocking out to songs they grew up on. 
Knowing all this, I approached Patty, the venue's co-owner and booker, about putting on an acoustic show with Manny that wouldn't disrupt the cover band schedule her patrons expect. We settled on a Sunday in May - before Memorial Day and summer weekends could take a big enough bite out attendance.  Still, how would we ensure enough turnout to cover costs? For this piece of the puzzle, I looked to School of Rock and those packed weekend afternoons I'd experienced. I've never seen School of Rock put on an acoustic show, so this struck me as an interesting twist and a valuable skill for these students to pick up. It's also an opportunity for up-and-coming music students to open for a touring musician who's been on TV multiple times. Also, given Manny's deeply-held belief in inspiring the next generation of artists, giving the school's students this shot to open for Manny made a great deal of sense. 
For my part in the show, I've recently opened for Willie Nile at Outpost in the Burbs, notching a high-water mark in my music career. Now I'll bring that stage-tested show in front of Manny's audience and hopefully bring many of you, my followers, into the mix. My set will lean more toward my rock songs to create a cohesive experience with Manny's rock stylings. 
I believe our show - my set, School of Rock's house band performance and Manny's headlining set - will delight and inspire you and your family. This is the culmination of decades of my love for making music in Montclair. 
If there's a useful lesson here for other artists, it's that taking the moment to promote other artists and your local scene can make good things happen. We independent artists are advised to promote ourselves, but not to be spammy about it. Promoting other artists like I do with my Montclair playlist helps form partnerships and coalesce scenes and movements - gets audience interested in multiple acts that might fit together. Our cross-promotion of other artists makes our presence more multi-dimensional and useful to others. Of course we should include ourselves in it. I'm on my own playlist - with one song like all the other local artists - and I'm usually not at the top. 
When I cross-promote with Manny, my fans take an interest in him. His fans take an interest in me. If you want to go faster, go alone. If you want to go farther, go together.