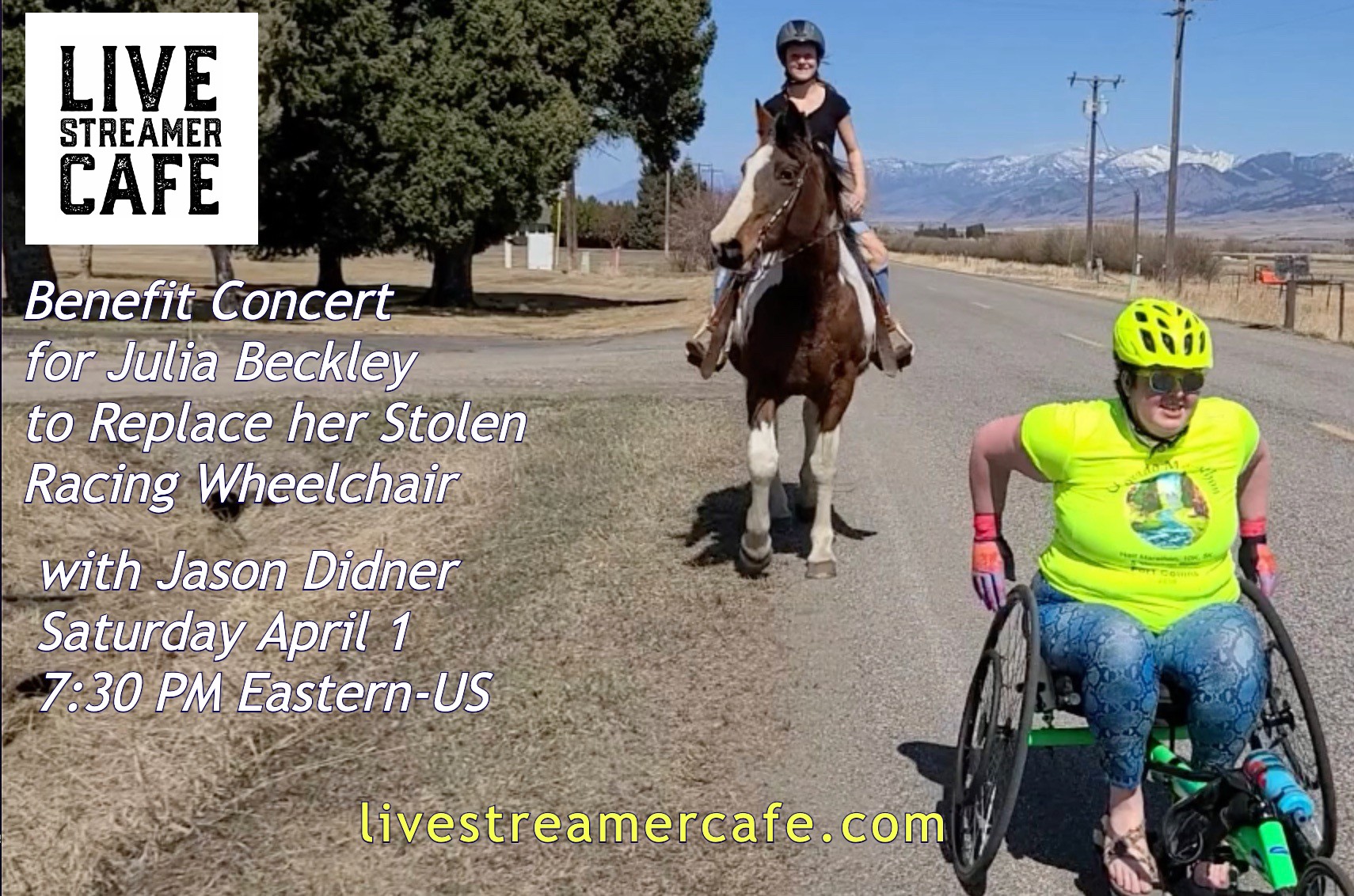 Julia Beckley loves to race. She is an integral member of the running community online. For her, racing is done in a pushrim wheelchair, as she has a bone disorder that causes high risk of stress fractures.
 If you've ever seen Julia's social media posts, she exhibits this sense of euphoria after every race, after every workout, every day she's not in the hospital and can do her favorite thing. Even in those harder times, she's grateful and hopeful. 
So, when I saw a post yesterday morning that her pushrim wheelchair was stolen from her garage, I felt the weight of that injustice and the imperative to do something about it. I had already scheduled an online concert. But this news made me change it to a benefit concert so we could raise funds to replace this chair. For Julia, a pushrim wheelchair is more than a prized possession. It's the key to her way of life. Race season is just beginning and she'll now have to wait until the funds are raised and a specialty pushrim shop can customize a vessel for her. 
Join us Saturday April 1 for an Online Benefit Concert for Julia
📅 Date: Saturday, April 1
⌚ Time: 7:30 PM Eastern-US
📺 Platform: Live Streamer Cafe (this link takes you directly to my lounge). 
Arrive 5-10 minutes early and set up a username and password. Live Streamer Cafe will verify your email address, so check your email during the process. 
If you can't see the chat window, click the Expand button. Otherwise the chat window is below the video frame. 
✍ Sign up for my email to get a reminder about the show and an exclusive live single. 🎧
Run With My Troubles
Julia contributed an incredible clip to my video "Run With My Troubles," which features runners across the USA who realize the mental health benefits of their exercise efforts. Look for Julia training in her pushrim wheelchair at the 1:44 mark. 
Julia's GoFundMe
The benefit concert's environment will contain a donate button for Julia's GoFundMe - but you can donate now and get updates about this effort at Julia's GoFundMe page, maintained by her friend PJ and PJ's mom Cindy.