Wow! Just…Wow!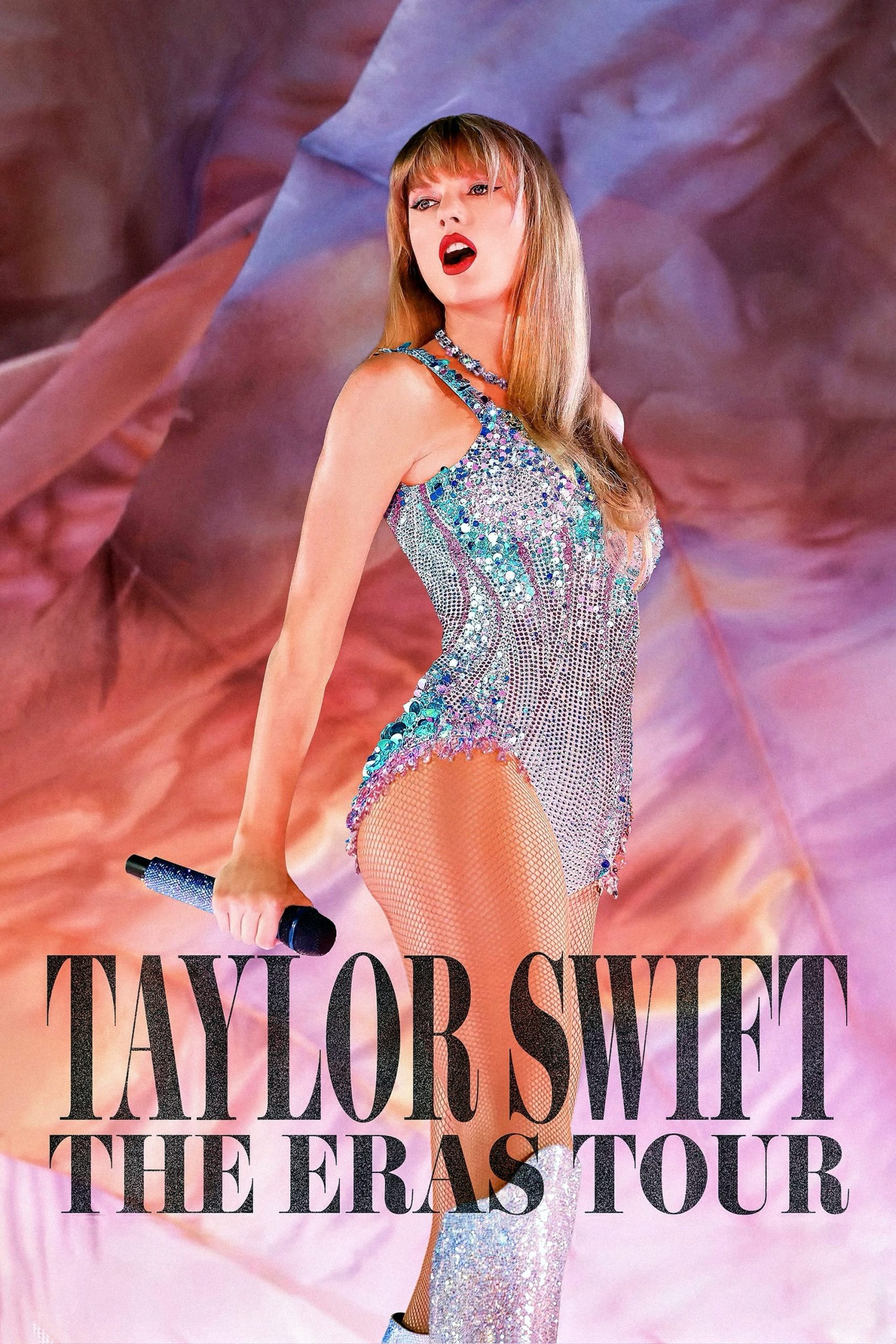 So, last weekend Amy and I took our daughter and a friend to Taylor Swift's new concert film "Taylor Swift: The Eras Tour." The show was in its second week, so tickets were attainable (in the front 2 rows). But the energy of the audience had a strong opening night/in-person at the stadium vibe. 
Girls were singing and dancing in the aisle together. My daughter said she nearly lost her voice singing at the top of her lungs with her friend. Clearly, Taylor keeps tapping into something big, now appealing to a second generation of superfans, with no sign of letting up.
A Method to the Moments
As a fellow musician who loves to perform live, I recognize that Taylor did not accidentally stumble into captivating and engaging and audience. In fact, I've benefitted from a book by the guy who produced Taylor's early concerts - Tom Jackson. In his book "Live Music Method" Tom compellingly argues for creating moments over the course of a show - not just playing songs. He lays out the case that if your songs all look alike, they will all sound alike to an audience - even in different keys, different tempos, different moods, with different themes, etc.  
Taylor certainly established distinct moments - lots of them! Sure, it helps that she had state-of-the-art lighting, set design and visuals, but even if you took that away, the artist made the moments. She acted out "Tolerate It" in heartbreaking fashion, ran the show like a boss in "The Man" and broke it down to just her voice, her piano and the stadium crowd on several occasions between the big pop song and dance moments. 
Of course, Taylor has long since overcome a key challenge Tom highlighted in his book. Taylor's audience (both the stadium crowd onscreen and the movie theater crowd) is absolutely married to her - they know every lyric to her 17 years' worth songs. Tom's book is for the unknown artist who is "dating" their audience - maybe trying to break through to a small crowd at a coffeehouse or opening for a more established act - an artist still trying to make those first impressions. 
This is the space I occupy. My application of Tom's method looks more like:
intentionally ordering my set list to create different moments (an introductory moment, a musical moment, a "different" moment, a "big fun" moment, a touching moment, a "raise-the-roof" moment) in an order that gives the audience a complete experience. 
getting out from behind the mic stand when not singing (in some instances, not all), 
introducing some of my songs while playing my guitar underneath my banter, 
working out transitions between songs as a key part of rehearsal, whether solo or with a band, 
using a looper pedal to keep an accompaniment going while I get away from the mic and play a solo, 
altering the lengths and arrangements of songs to prioritize connection with audience over reproducing my records, 
expressly giving my audience permission early in my show to enjoy the show in their own way, 
balancing eye contact with sections of the audience, 
interacting with the band when I have one, and much more. 
The Eddie Van Halen Connection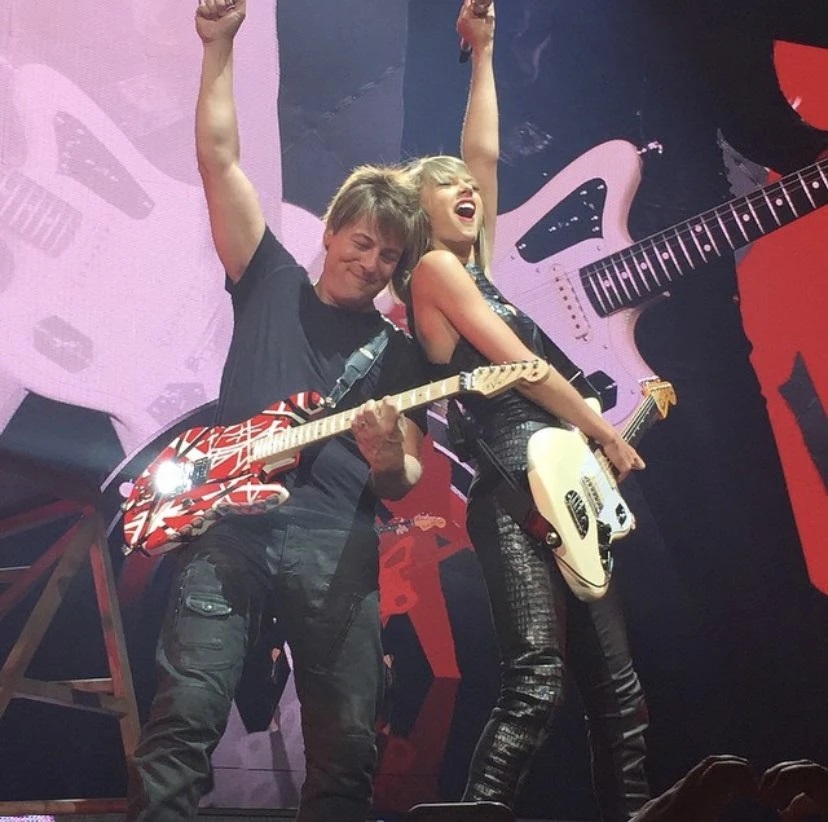 If you know my story, you know that Eddie Van Halen is the reason I play guitar. So you can imagine how I geeked out at the maybe 2-second sighting of Eddie's iconic red guitar with the crazy white and black stripes - you know, from the "Jump" video! Taylor's longtime guitarist Paul Sidoti rocked his EVH Gear replica of Eddie's axe - the Frankenstein. This brief moment filled me with unexplainable levels of joy!  I later went down this rabbit hole and found that Paul endorses EVH Gear guitars and amps. 
This is not the only connection between Taylor Swift and Eddie Van Halen. Taylor is said to have had the "Eddie Van Halen effect" on the next generation of pre-teen and teenaged (mostly) girls buying guitars and learning to play, just as Eddie had on (mostly) boys of my generation. Guitar World ran this article about the phenomenon back in 2016. 
This concert film experience was unlike any movie theater outing I'd ever experienced. It reminded me of when I was a teenager captured by a concert video. It was 1986 and I watched "Van Halen Live Without a Net" repeatedly in the basement with guitar in hand, studying Eddie's wizardry and trying so intently to come away with even a fraction of it. And yes, Eddie was playing a replica of his own legendary striped guitar! 
My Key Takeaways
My overall feeling with the Taylor Swift concert film is delight at having seen my daughter have such a blast with her friend, and to have been in a setting where such sheer joy filled the space. 
Secondary to that, just as when I was a teenager learning guitar, hoping to harness a fraction of Eddie's magic, I found myself again studying Taylor's show for ways I can bring a fraction of that unbridled joy to my audiences. 
Watching Taylor apply Tom Jackson's onstage success principles gave me things to consider to enhance my live show, even if I have nowhere near Taylor's budget, cast and crew: 
Lavish lots of gratitude on the audience
Really, really, really take in the applause and reflect it back - don't rush past it! 
Tell a relatable story at a key moment in the show - just not before every song
When you give an audience member a special honor, that audience member becomes a stand-in for the whole audience - like when Taylor gave a girl her hat. 
Did you go to any in-person Eras Tour concerts? See the film? What were your takeaways? Discuss in the comments below.