Bonnie Raitt just won "Song of the Year" with a song about Transplant. I've got a few of those...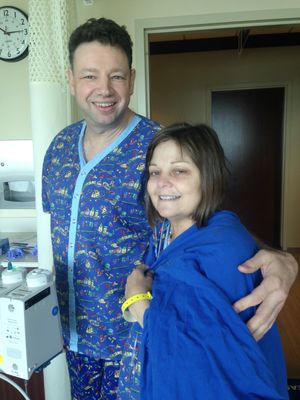 Blues/country singer/guitarist Bonnie Raitt has captured the coveted "Song of the Year" Grammy with an incredibly moving song "Just Like That" about a mother who meets the recipient of her deceased son's heart via transplant. Bonnie had found her inspiration watching a TV interview with a mother who got to listen to her late son's heartbeat in the chest of a transplant recipient; she included that exact moment in her lyrics. 
My wife Amy and I are twice blessed with organ transplants Amy received at Hackensack University Medical Center. Amy is a survivor of a grueling 46-year run with Type 1 diabetes. This cruel condition had damaged her kidneys beyond repair.
The transplant team suggested I get screened to see if I could be a match for Amy and donate a kidney of my own to her. I turned out to be a match and, in May of 2015 Amy and I were wheeled into neighboring operating rooms.
My first question when I was awakened was whether the transplant was working. I was delighted to see the color return to Amy's face after she had been so sick for so long with the failure of her native kidneys. 
But she still had diabetes, which threatened the health of her new kidney and would continue complicating every other aspect of her health. Three years later, the Transplant Team located a pancreas from a deceased donor that would immediately put Amy's decades-long case of diabetes into remission. Today she lives without diabetes, and she'll continue to do so as long as the transplant holds out. 
In 2022 I reflected on our experiences and wrote this song: "A Complicated Miracle." 
As you might imagine, we have frequent doctors' appointments. These days, that means going online and filling out lots of medical forms repeatedly. We've kept our sense of humor throughout the medical twists and turns in our lives. So we lovingly co-wrote this one: "Patient Portal," which appears on my recent album "Side Effects." 
The title track to "Side Effects" takes the "complicated miracle" concept further. The good things in life, from love to medical miracles to that pill that protects your vital organs, come with a very long list of side effects. You may look at that list and still decide the benefits are worth it. 
In support of the National Foundation for Transplants
Since 2022, Internet radio station BlowUpRadio has hosted a webathon to raise funds and awareness for the National Foundation for Transplants - an organization that helps recipients afford not only the transplant if their insurance doesn't adequately cover it, but also the essential costs associated with recovery - lost wages, transportation, food and shelter. 
Kidney recipient and singer/songwriter Catherine Wacha is collaborating with me on a new song about the transplant experience for this year's digital compilation album. Listeners to the webathon who donate at least $10 to NFT will receive this compilation. 
This special presentation of "Giving a Second Chance" airs the weekend of March 4-5 on blowupradio.com. I will perform a solo acoustic set, including the two songs above.