Radio Alert: This collaboration will air tonight Nov. 27 at 7PM Eastern-US on blowupradio.com
I'm really excited to share this international collaboration with you! It's "Molasses Blues" with my lead vocal and rhythm guitar, plus the drums, bass and lead guitar of Japan-based blues virtuoso Keiton "K'chiro" Itoh. He's got that Stevie Ray Vaugh-type twang to his guitar sound, and boy does that benefit this song! 
Amy had written Molasses Blues years ago, before a pancreas transplant put her Type 1 diabetes in remission. The lyric captured her predicament of having wildly fluctuating blood sugar and spiraling complications, all while craving sweets. And it was the quintessential blues lyric, boiled down to its essence: 
No sadness fades slower than molasses blues 
No sadness fades slower than molasses blues 
Takes longer than scrapin' tar off the devil's shoes
 I performed it with other musicians at a few open mic nights and then made the official recording and lyric video for my album "Side Effects" earlier this year.  
Bandlab: Evolution of online musical collaboration
Over the past 2 decades I've enjoyed collaborating musically with talented and creative people in other parts of the world. 
But never before has it been quite this fast and fluid to record my parts and let other musicians add theirs. Now I don't even have to upload and download huge files as part of the process. On Sunday night I recorded the rhythm guitar and vocal to "Molasses Blues" and published these parts to Bandlab with an open invite for any musician to add their parts to it. 
K'chiro came along and clicked the "Fork" button, which then gave him a copy of my project. Now he could add his tracks and mix the volume levels. He could also play with the stereo arrangement (bass on the left, rhythm guitar on the right, vocals in the middle, more noticeable through headphones or a car stereo) to his liking. Last night he published his changes. Now another musician can fork either my original or the version where K'chiro added his parts. Rumor has it that another musician is working on an organ part. I'm kind of geeking out over this! 
Bandlab is equal parts collaboration and social network for music. It acknowledges the many different ways people enjoy and interact with music. Most of us listen to music around the house, at work, in the car, as part of TV and movie soundtracks, and even when we're out at the grocery store. On special occasion we get to go to concerts. Many of us sing or play an instrument. Some of us write our own songs. A very small minority have gotten rich and famous doing it. We all enjoy music somewhere along this continuum. Bandlab brings together musicians at any/all levels to participate in the music however we like. It even offers tools to help beginners jump right in and make music, much as Apple GarageBand does. So if you're a fan of an artist and you play a little, that artist may let you fork their track and add your bit to it. 
📝 Sign up with Bandlab and follow my artist page.
About the Guitar I Played on this Collab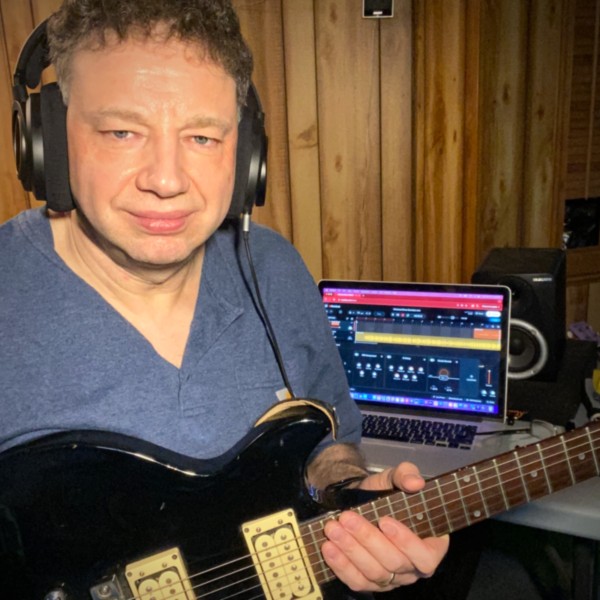 I played the rhythm guitar part on the guitar my grandparents, aunt and parents surprised me with on my Bar Mitzvah! At that time I wasn't thinking about guitar. I was a keyboardist and I was crazy about synthesizers. But I was overjoyed getting this guitar and I set about learning my way around it. Over time I was drawn back to the keyboard. Until I was almost 16 and saw my first rock concert: Van Halen. Watching Eddie shred so joyously made me want to do that too. Then I couldn't put down the guitar! 
It's a 1983 (I think) Ibanez Artist AR30. Only 1,300 guitars of this model were manufactured. 
As legend has it, my grandparents walked into Sam Ash on 48th street, taking their place in line among the spiked, mohawked punk rockers to ask a sales rep about the best guitar to give their grandson as a special gift. 
When I got deep into Eddie Van Halen's style of playing, I needed a guitar with a whammy bar built-in, something this guitar does not have. So it saw a lot less playing time until recently. Lately I've found a role for it in my recording efforts. It has a great feel and tone when I don't need to dive-bomb a whammy bar! 
This guitar does have a bit of "character" though. When I was 16 I bumped into a desk with it and cracked the paint and wood around the volume and tone knobs. I also lost a tone knob in the process and replaced it with a generic knob back then. I've ordered a matching knob over eBay. I'll keep you updated on this…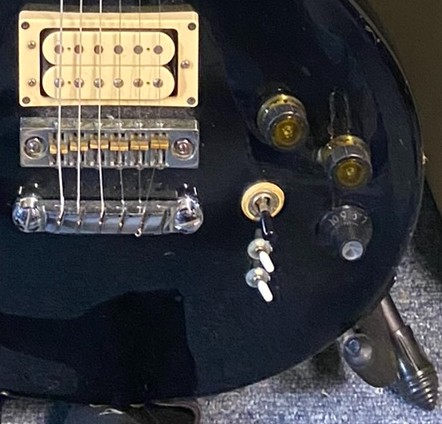 ---
I hope you enjoyed the collab and found the backstory interesting. I'd love to see your comment with your stories about international friendships or collaboration made possible by technology. Or how you may use tools, skills or items from your childhood that hold special meaning. 
It's always great to get your comments. It makes my day! 
Musically yours, 
Jason Didner
Jersey Rock with Jersey Humor… and Heart 
jasondidner.com