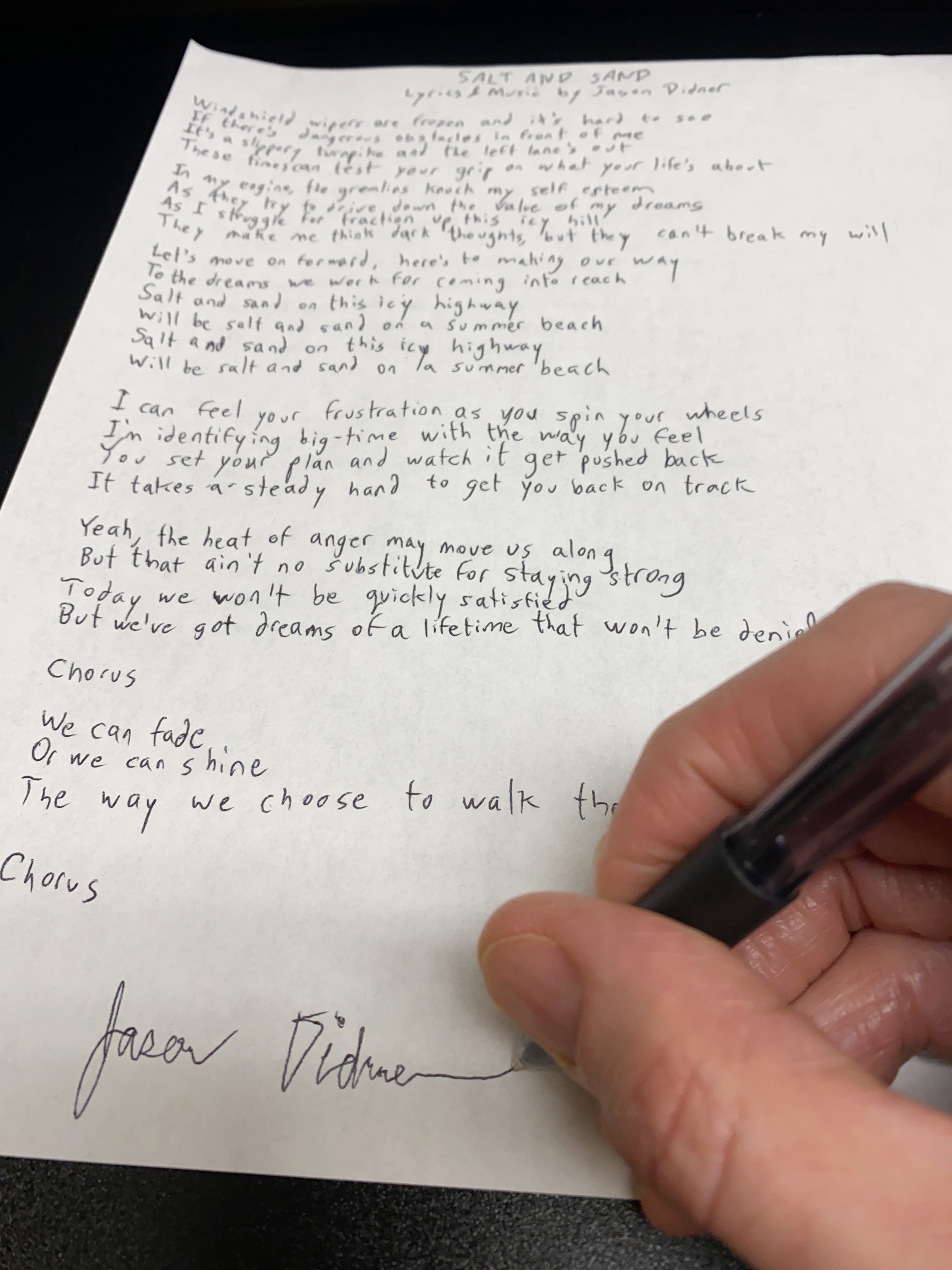 It pleases me to create original music. Each song idea arises from what I want to say - lessons I've learned in life; emotions I feel keenly; observations that activate my sense of humor. The mere existence of my own material that I can enjoy in the car the morning after I recorded the demo or twenty years after releasing it to the world is a gift to delight the soul of my future self. 
Still, there's an equally powerful emotional reward when I hear from others how one my songs landed with them, and what it meant to them. You've laughed; you've been deeply moved. Your remarks remind me how my songs become conversations between us. 
So, how do we deepen the connection between artist and audience in an age when millions of songs flows freely out of Spotify and Apple Music like so much tap water? 
One way is to create an inherently rare expression of my song, right from my hand to your home. I find it thrilling to handwrite these lyrics that are so close to my heart, knowing they will be proudly displayed and will remind you of your experiences with the song.
Album Downloads Included
When you order a handwritten lyric sheet, you immediately get a full digital download of the album that contains that song, and a digital booklet of all the lyrics and stories behind the songs (which are typed).
✍ Order your lyric sheet in my store. Get an album download with the sheet.  
Choose the Album, then the Song
At present time I have four albums out. You can order the handwritten lyric sheet for one of those four albums. Then you get to select the song title for which you want me to handwrite the lyrics. 
✍ Choose your preferred album and song title for your lyric sheet in my store. 
Name your price, starting at $45
Original handwritten lyric sheets from the hand of the artist/songwriter are inherently rare. The going rate for a small, independent artist's lyric sheets starts out at $45 and rises well into the hundreds. I've opted to let you name your price, starting at $45, so you can support my songwriting and record production at a level you're comfortable with, at the value level you believe this lyric sheet to have for you. 
✍ Order your lyric sheet in my store for the price you want, starting at $45. 
Do you collect lyric sheets from musicians you admire? Feel free to discuss in the comments.