Sessions Live has Shut Down
Over the holiday week in December, my friends who give streaming concerts from home started posting on social media that Sessions Live had gone out of business, taking with them the last of their in-app currency that fans had tipped them. Performers who earned that currency (or at least their 2/3 of it) were not able to cash it out. Billboard Magazine's web site confirmed the closure.
Live Streamer Cafe is Now Free for Artists to Use
My preferred live streaming platform, Live Streamer Cafe, initially operated by charging artists a monthly subscription fee. In turn, LSC would not touch the artists' tips - simply provide buttons to their Paypal/Venmo accounts so audience can tip them directly. Artists only have to share the usual small percentage with PayPal or Venmo, not the massive 1/3 cut that Sessions took. 
But since Sessions folded, Martyn and Kristopher, the founders of LSC, decided to go with a "freemium" model for artists. It's free to stream. But if an artist elects to subscribe at $1, $2, or $3 per month, they will be listed higher on the site's home page and easier for audience to discover, more so at the higher subscription level.
I am a coach at Live Streamer Cafe and can answer your technical questions about how to use it as an artist. 
Live Streamer Cafe Remains My Favorite Venue to Give Online Concerts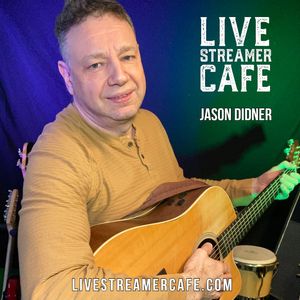 I've given streaming concerts since 2004 when there was no video - just choppy audio and chat. Everyone in the room would have an opportunity to "grab the mic," which resulted in chaos during virtual open mic events and even concerts. 
Since then, Concert Window came and went. I had a very difficult experience putting on an online concert with StageIt where most of my audience couldn't see or hear me. We quickly scrambled over to Zoom where a new issue popped up - "What's the link?!??!?" 
Sessions Live had moved the process to an app that worked, but between their in-app currency and their convoluted layout for watching the show, having a strange cartoon avatar represent you in a "party" and navigating multiple tabs, my audience was confused and distracted from the show. Also, dealing with the in-app currency made the process more overwhelming for my existing fans. 
Along came Live Streamer Cafe, an intuitive and elegant environment for watching and interacting with a solo performer. This is a virtual neighborhood coffeehouse, comfortable and intimate. I give a streaming performance every 2-3 weeks and manage to attract a friendly, international audience most times. People in Europe stay up very late to catch my show. 
Kristopher, the site's developer, continues to do a great job listening to and implementing artists' suggestions, building the ideal venue to help an artist entertain their audience, raise funds for good causes, earn tips and sell merch. One key to this is the addition of "compliments," which come from a dropdown list and contain words and graphics of applause and appreciation. He creates new compliments that might even fit the theme of a song selection, like "Bigman Forever" when I cover a Bruce Springsteen song and a Clarence "Big Man" Clemons sax solo section comes up. 
Martyn, the site's charismatic co-founder, has created a YouTube channel with numerous tutorials on using the platform's various features to best effect. He's also a marvelous singer/keyboardist with an amazing home studio setup that rivals broadcast television. 
Using ReStream to Broadcast to LSC, YouTube, Twitch and Facebook Simultaneously
I subscribe to ReStream.io which lets me multi-stream to Twitch (my chosen back-end for Live Streamer Cafe), YouTube, and Facebook all at the same time. During the show I urge users watching on any other platform to join the interactivity at Live Streamer Cafe. It's a good way for my Facebook friends, YouTube subscribers and even newcomers to discover my live streaming shows in the first place. 
Artists and Audience - Sign up for Live Streamer Cafe for Free Today!
Hop on over to Live Streamer Cafe's web site and click Sign Up. Whether you're looking for quality entertainment in a friendly online , international space, or you want to put on a show, you will see why I consider it the best.